Classic Red Bye-Bye Buggies
Phone Us Toll Free (877) 840-0707
Bye Bye Buggy USA is happy to bring you the original Bye-Bye Buggies from Angeles, the industry standard for transporting multiple groups of kids at schools, day cares, preschools, and other child care organizations.
The original Bye-Bye Buggy is made from tough plastics, right here in the USA. They come fully assembled, ready to roll right out of the box. We deliver these buggies to your door anywhere in the USA and internationally. Choose from two models: the 6-Seater and the 4-Seater (both shown below). Every model has the following great features:
360 degree pivoting front wheels for easy maneuvering. Two types of wheels are available: slim and fat (add $50 to the price for fat wheels).
Spokeless steel wheels
Easy-to-fasten seat belts
Terraced seating — every kid has a full view of all the action!
Designed to fit through doorways
Built-in storage compartment
Ships fully assembled (via freight only)
3-year guarantee
Original Bye-Bye Buggy Models Available
4-Seat Original Bye-Bye Buggy®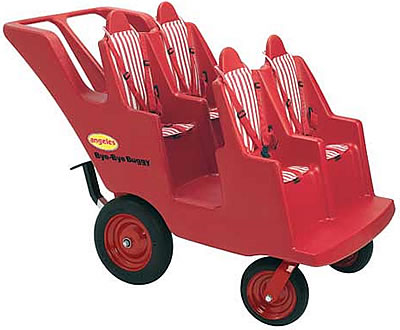 Dimensions: 27 3/4″ wide

Weight: 86 lbs.

Model Number: FB6300A

Price: $2,075.00
6-Seat Original Bye-Bye Buggy®
Dimensions: 27 1/4″ wide
Weight: 112 lbs.

Model Number: FB6400A
Price:  $2,295.00
Phone us today for more information, toll free!

We're standing by to help you with any questions you might have about 4-Seat or 6-Seat Models of Angeles Bye-Bye Buggies. Just phone us toll free at (877) 840-0707. We don't just sell these items — we work directly with hundreds of schools and day cares in our own geographic area, so we've got the experience you need to help you with any questions you have about the buggies.